April 9, 2011

Madagascar – Day 10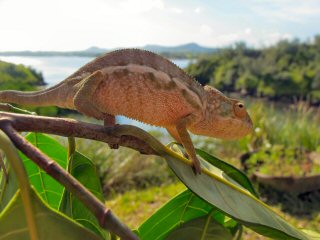 We told Frankie our flight didn't leave Nose Be until 7:45 PM tonight, yet at 4:30 AM this morning he woke us up in frenzy. "The flight to Johannesburg is at 7:45 AM not PM!" he shouted. At first I was really disoriented, remember its 4:30 AM. Where was I? What the heck was going on? Then I snapped to and said, "We're not going to South Africa. We are going to Antananarivo", I shouted back. All Frankie said was, "I'm so sorry. Please go back to sleep".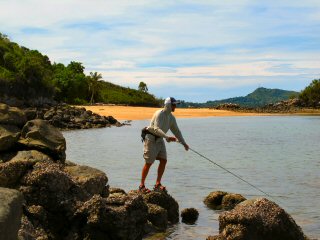 That was a tough way to start the second day of relaxation. As you probably guessed, I couldn't get back to sleep and felt lousy most of the day. And for that reason, today we really didn't do much. However, to redeem himself, when Granny and I finally wandered up to the porch for coffee, Frankie offered a surprise. He had our first chameleon of the trip spotted for us to enjoy. Seeing a chameleon this trip was one of our goals, and it was done. And he was worth every bit of being a goal. This chameleon was the coolest lizard type thing I've ever laid eyes on. And as once again I caught up on my journal, looked at some of my photos and drank cokes, I checked on the chameleon at least ten times throughout the day. It was great!

At about 1 the crew served Granny our last Sakatia meal, a great lunch and I used my new energy to fish the last two hours before we had to leave. This was my third crack off the rocks by camp. Each time I scraped up only a small fish or two so I wasn't expecting much. The tide was low but rising. On my first cast I landed a small snapper like the one the other day. I'm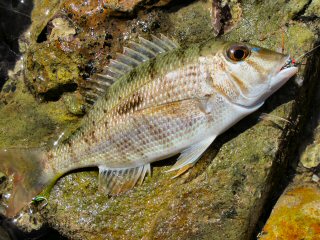 pretty sure it's called the onespot snapper. Then I had some small fish follow but my fly was too big. I came up with a great idea; trail a tiny size 10 shrimp I use for boxfish in Belize behind my size 2 Clouser. Why not? We fish two flies for trout. On my very next cast I landed what I believe is a blackspot emperor fish AND a leatherback! A double in the ocean! Two minutes later (I am not kidding) I landed another double! This time it was a chocolate hind (grouper family) and a sand lizardfish.

The fish were feeding and I was really making the best of it. But that came to an abrupt painful end because as I caught one more chocolate hind I slipped and fell on the razor sharp rocks. The body did not feel good. At first I thought I busted my ankle. It hurt like heck and was stuck all deform-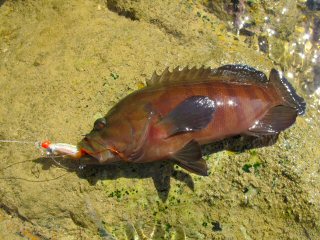 angled between two rocks. I worked it loose and despite the throb the toes all wiggled just fine. It was just a scrape on the tough skin of the side of my foot. Once I realized where that pain came from and I'd be fine I noticed blood all over my right hand and that my yellow sharkskin line was turning red. I sliced the tip of my index finger on the oyster shell covered rocks. Luckily the wound was small-lots of blood but nothing to freak over. Regardless of no serious injury I was done. My ankle ached, my finger was bleeding and it was almost time to pack up anyway. I called it.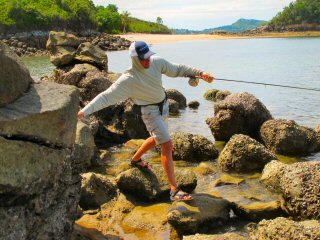 At 5 PM we said goodbye to our crew and took a boat from Sakatia Towers back to Nose Be, Island. Then we taxied to the airport where we are presently waiting to fly to the capital of Madagascar, Antananarivo (Tana). We will stay in Tana tonight but leave early in the morning for our next adventure.

As I type, we are in the most bug infested airport imaginable. It's like a horror movie and the geckos are the size of Komodo Dragons! There are people swatting bugs like it's a war. But what just made our misery all worth it was, a minute ago a bat flew in here and cracked his head on the widow. I like bats, that part made me sad.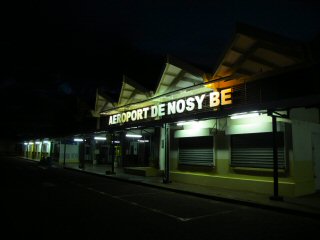 However, he fell to the floor and started hopping his way along, it looked awful. The lady closest freaked and ran out of here while most every one else just watched in shock. Then, to our disbelief, some lady started crawling on the floor trying to catch it with her bare hands! Yes her bare hands! She was crawling under seats and over roaches, beetles, ants, and all kinds of crazy insects. Then she got the bat, but dropped it just as he tried to bite her. What an idiot! I love travelling!

Rainforest rain is starting to fall and blowing into this shabby terminal. Time to turn out the computer.

Stay tuned!