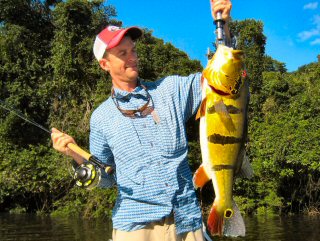 I will be hosting my annual peacock bass trip to the
Amazon
in
Brazil
February 11-18, 2012. That's a Saturday to Saturday. The trip will have 8 anglers including me. The cost of the trip is $4395 based on double occupancy. This price includes one nights stay in
Manaus
at the
Tropical Hotel Manaus
, travel to our camp in the Amazon, guides, accommodation and food. It does not include international airfare (expect about $1500), your Brazilian Visa (about $160), tips to fishing guides, camp staff, taxis or food while staying the day in Manaus.

The outfit we use is River Plate Outfitters. I had a couple options as what trip or type of trip to do. Based on my previous trips, I booked what they call the "Floating Tent Camp – Regular". You will not be disappointed. You can see exactly what this is on the River Plate website. It's truly incredible! You may also check out photos and stories from my past trips at my Blog and my Website.

All I can tell you is that peacock bass are one of my absolute favorite game fish on the planet and on this trip you have a chance at several different species of peacocks! That's not to mention the many other kinds of fish you will catch.

I am taking reservations starting today so don't wait too long!

Contact me at jeff_currier@hotmail.com